[July 31 2017] FOOTyWEAR project Cornet success story
The FOOTyWEAR project has been placed in the spotlight on the Cornet website as a Cornet success story! The article can be found via this link.



---
[October 23-24 2015] OST-Messe in Cologne
| | |
| --- | --- |
| | On October 23th and 24th Kris was present at the OST-Messe in Cologne, a trade fair and congress for the orthopedic shoe technology industry. During a guided tour our poster "Reliability of foot assessments and the relation to gait lab measurements" was presented to some 25 interested visitors. More info can be found at: http://www.ost-messe.de/en/. |
---
[September 25 2015] 14th AmiEs-conference Vives Hogeschool in Ostend
On September 24th and 25th, the 14th AmiEs conference was held at the Vives University College in Ostend, Belgium. Mobilab was represented by Marc, Bert and Kris. The Footywear project was covered by a presentation titled: "Which hardware can aid clinical experts to support their foot analysis?". The presentation can be found via this link.
---
[August 25-29 2015] 37th IEEE EMBC conference in Milan
| | |
| --- | --- |
| | The IEEE EMBC-conference was visited by Glen and Kris who gave an oral and a posterpresentation respectively. The FOOTyWEAR-poster was titled "Eigenfoot Decomposition of Plantar Pressure Images and Case Study of Feature Prediction of Two Modalities" where plantar foot pressure data was used to predict other foot features. The poster can be downloaded in the Publications section of our project website. |
---
[July 10 2015] 12th Footwear Biomechanics Symposium in Liverpool
Ingrid and Kris attended the 12th Footwear Biomechanics Symposium (FBS) 2015 in Liverpool. They gave an oral presentation about the "Prediction of clinical foot characteristics using quantitative features from different measurement setups" and presented a poster titled "Relation between experts' foot labels and quantitative foot measurements".
---
[April 25 2015] Borginsole congress – Biomechanical Cross-links
| | |
| --- | --- |
| | Inge Van den Herrewegen and Kris Cuppens attended the 4th Borginsole Congress – Biomechanical Cross-links in Antwerp. Inge presented "Dynamic 3D-scanning for kinematic foot analyses". The presentations of the congress and more pictures can be found on the website of the Borginsole Congress. |
---
[March 20 2015] 19th IVO World Congress 2015 PARIS
On March 20th Kris Cuppens gave an oral presentation about the FOOTyWEAR project results at the 19th IVO2015-congress in Paris (http://www.ivo2015.com/). The presentation was titled "Determining foot types in healthy and diabetic feet".
---
[Februari 27 2015] End symposium FOOTyWEAR and TICOON
On februari 27th 2015 the FOOTyWEAR end symposium was held. Several intersting presentations and about 230 visitors made this event a very succesful one. Special thanks to our guest speakers, IWT, the participating companies of our user committee and the foot analysis experts.

The presentations and pictures of the symposium can be found here.
---
[December 10 2014] FOOTyWEAR at the Footwear Health Tech Conference in Eindhoven
---
[November 18 2014] FOOTyWEAR at the CORNET and EraSME event in Warsaw
| | |
| --- | --- |
| | The FOOTyWEAR project has been nominated as a good practice of a running CORNET project by the Polish funding body NCBR. The project was presented at the CORNET and EraSME event in Warsaw by our Polish partners Boguslaw Wozniak (IPS) and Mariusz Babral (PIPS). |
---
[November 13 2014] Partnermeeting in Geel
The Polish FOOTyWEAR partners (IPS and PIPS) visited MOBILAB for an extensive partnermeeting. In addition the possibilities for a future collaboration were discussed.
---
[November 3 2014] Mini Belgian Podiatry conference FBP
| | |
| --- | --- |
| | Tom Saey was invited as a speaker at the Mini Belgian Podiatry conference organized by the Federation of Belgian Podiatrists. Tom presented the interim results of the FOOTyWEAR project. More information can be found here. |
---
[July 14 2014] 13th International Symposium on 3D Analysis of Human Movement
From July 14th to 17th, the 3D AHM symposium on 3D Analysis of Human Motion (http://3dahm2014.epfl.ch/) took place in Lausanne, Switzerland. Kris took part in this symposium, and had several interesting contacts, among others with Prof. Alberto Leardini.
The talks and posters in this symposium had an excellent fit with the research that is carried out in Mobilab, from determining the accuracy of a 3D marker measurement setup, over motion capture with inertial measurement units to intelligent textiles.
---
[June 25 2014] Partnermeeting in Polen
Kris, Tom and Mario have visited the Polish project partners (IPS and PIPS) in Lodz on 25th of June. The third FOOTyWEAR partnermeeting was held and ideas for a possible future collaboration were discussed.
In addition the research facilities of IPS were visited extensively.
---
[June 9 2014] Article published in the Journal of Biomechanics
The article "Dynamic 3D scanning as a markerless method to calculate multi-segment foot kinematics during stance phase: methodology and first application", a result from the finished APPLODYNSCA project, has been published in the "Journal of Biomechanics", THE pre-eminent journal for Biomechanics.

In the APPLODYNSCA project the technique of dynamic 3D scanning was investigated for orthopaedic applications. This technique has also been used to capture quantitative data for the FOOTyWEAR project. The article, wich describes the method to track the foot segments in the dynamic 3D scans, will contribute significantly towards future application of the APPLODYNSCA and FOOTyWEAR project results in (clinical) practice, e.g. for the improvement of orthopaedic aids and shoes.
Many thanks to the co-authors: Bettina Barisch-Fritz (Sportmedizin ,University Clinic Tübingen), Prof.Dr.Ir. Jos Vander Sloten (BMe, KU Leuven), Prof. Alberto Leardini (Movement Analysis Laboratory, Istituti Ortopedici Rizzoli).
Journal of Biomechanics Volume 47, Issue 11, 22 August 2014, Pages 2531–2539.
DOI: 10.1016/j.jbiomech.2014.06.010
---
[Februari 18, 2014] 4th Congress of the International Foot and Ankle Biomechanics Community (i-FAB)
MOBILAB will be present on the i-FAB congress that will be held in Busan (Korea) from 8-11 April 2014. Tom Saey will present the poster titled 'Comparison of biomechanical foot analyses between nine Flemish foot-experts'.
---
[December 12, 2013] Measurements completed !
All measurements for FOOTyWEAR have been finished! The feet of 77 subjects were investigated by 9 Flemish foot-experts, after which they were analyzed in the gait lab of MOBILAB. There, analyses were done with marker-based 3D gait technology, a pressure plate, force plates, high speed cameras and a dynamic 3D scanner. Thanks again to all volunteers and foot-experts!
---
[November 28, 2013] FOOTyWEAR in the picture at ZORGIDEE
MOBILAB will be present on the innovation market of 'Zorgidee', on February 6th 2014 in Diepenbeek, Belgium. The FOOTyWEAR project will be highlighted there. More information on the website of 'Zorgidee': http://www.zorgidee.be/content/innovatiemarkt

---
[November 13, 2013] Orthopädie + Reha-Technik 13 - 16 May 2014 in Leipzig
FOOTyWEAR will be present on the OT-World congress, from 13 to 16 May in Leipzig. Tom Saey will go to Germany, to present the poster titled 'Biomechanical foot analysis in clinical practice in Flanders, a survey'. More information can be found on http://ot-world.com/
---
[April 30, 2013] End Symposium APPLODYNSCA
On April 30, we organised an end symposium for the APPLODYNSCA project, which is strongly linked to the FOOTyWEAR project. In APPLODYNSCA, we examined 3D dynamic scanning for applications within the biomedical and orthopedic research domain. For more information, please go to the APPLODYNSCA website
---
[March 5, 2013] Polish partners visit MOBILAB
Exactly 1 year after establishing the first contacts, we could welcome our Polish FOOTyWEAR partners IPS and PIPS in MOBILAB for our first official partner meeting. After a tour of the MOBILAB research facilities and the orthopaedic workshop, we had a constructive meeting. In addition to a status report, we also made specific arrangements regarding our further cooperation in FOOTyWEAR.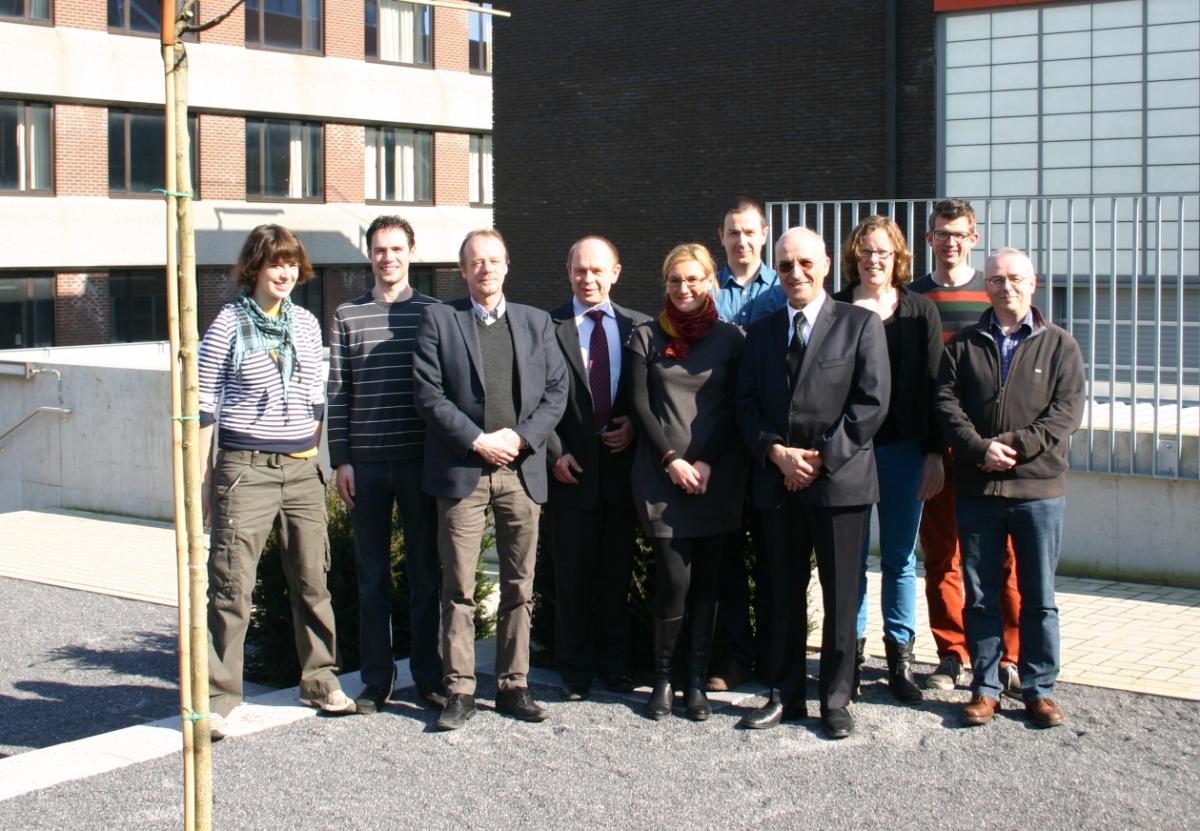 ---
[February 8, 2013] First Flemish FOOTyWEAR User Committee Meeting
Despite severe weather conditions, there was a nice turnout on our first FOOTyWEAR user committee meeting. After a short welcome and introduction round of all present, we gave a detailed overview of the content, planning and status of the project. We also elaborated on the major measuring campaign which will take place in October 2013. This led to a lot of interaction with the user committee and many interesting ideas were exchanged. The meeting ended with a tour and a demonstration in the gait lab. The second user committee meeting is planned for Tuesday, October 8, 2013.

---
[October 12, 2012] Netwerking event – MOBILAB introduces new projects
MOBILAB introduced three new projects (TICOON - FOOTyWEAR - ARTHE) to the Flemish SME's and possible partners.
During a lunch meeting, the contents and progress of the projects were presented. Inge Arents (IWT) explained the role of user groups in TETRA and CORNET research projects. The conditions for the participation in projects were also set forth.
After the presentations, everybody had the opportunity to network during a reception and for those who wanted, there was a possibility to visit the MOBILAB gait lab and the robotic gait simulator.
For more information about the content of these projects or if you are interested in participating actively as a company, organization or research partner, please contact mobilab@thomasmore.be
---
[March 5-6, 2012] MOBILAB Visits Possible Partners in Poland for Future Collaboration in the CORNET Program
| | |
| --- | --- |
| | Eveline De Raeve, Inge Van den Herrewegen and Mario Broeckx have visited prospective research partners in Poland to take part in the 13th CORNET call. Firstly, they visited the "National Centre for Research and Development"(NCBiR) in Warsaw to collect information about the formalities attached to a collaboration with Polish research partners within the CORNET program. Subsequently, they talked to researchers of Technopark Lodz about future collaboration opportunities. After this, they visited the"Polish Chamber of Shoe and Leather Industry"(PIPS) and the "Leather Industry Institute" (IPS) in Lodz. With these two organisations, they discussed concretely the joint application of a CORNET project proposal for the development of innovative methods for the classification of foot types and the optimization of footwear. |
---